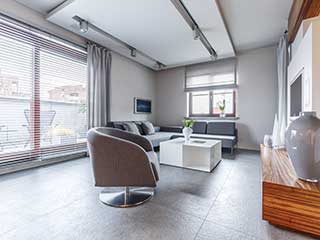 Natural light can be a great way to brighten up a room or it can be a real nuisance. Window coverings allow you to controls exactly how much sunlight gets through, but they also have other functions. They can also help improve your energy efficiency by providing some added layers of insulation, not to mention, they can make for great décor additions too. Our company's range of custom-made products has something for any home or business. You'll never struggle to find the right blinds for your windows, not when you consult with our team. Don't worry, it won't cost you a dime. Our company provides free consultation appointments for anyone looking to add ambient lighting options and beautiful designs to their property. You'll be hard-pressed to find more durable and beautiful window treatment options in all of California.
Finding The Right Type For You
Visualizing how a room will look once it's decorated is difficult, and our team appreciates how useful it can be to borrow an expert's eye in order to make the right decision. During our consultation appointment, our representative will assess exactly what your needs are and suggest the designs and materials that can best complement your interior décor. Of course, the ultimate decision will be yours, but we'll make sure you get all the information you need. Perhaps you could benefit from faux wood blinds rather than real timber ones, in rooms where humidity may be a problem? Maybe you don't want to have to bother pulling curtains around and aren't aware that there are motorized drapes available? After you decide, our experts will take precise measurements of the windows in question, ensuring complete accuracy during the installation process.
Our Wide Range Of Options
Our company caters to a huge range of different requirements, offering a vast range of materials from bamboo to aluminum and even vinyl. The Material isn't the only choice, of course. Different types of coverings have different benefits. Cellular shades offer extra insulation and sheer shades are great for UV protection without completely blocking out the sunlight. Our products can be produced in a range of styles, too, to suit the rest of your room's decor. Whether your property needs a clean, spacious feel or a cozy and comfy ambiance, you'll find the perfect solution in our range of products.
An Emphasis On Quality
Above all else, our company focuses on providing window treatments that are made from quality materials and tried-and-tested manufacturing processes to ensure that they hold up to our high standards. This quality speaks for itself, but our team here at Santa Monica Blinds & Shades provides a 5-year warranty with all our products to give you unparalleled peace of mind.
Schedule a Free Consultation Appointment Today!

High Quality Materials

Custom Made Products

Professional Installation

Motorized Blinds and Drapes