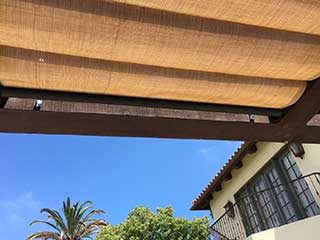 There are lots of reasons why installing custom patio shades is a smart idea. Not only do these systems reduce glare and discomfort at your property, but they're also an excellent way to make your patio space much more usable. You'll get fewer bugs flying in, your pets won't be able to escape easily, and you can even keep the rain out with waterproof patio shades. We stock a wide variety of different patio shades products, so you can be sure of finding the perfect coverings for your property. Schedule your free consultation in the Santa Monica area today to see just how much you could benefit.
Any Property Can Benefit From Exterior Roller Shades
Fit our exterior roller shades to your deck, gazebo, or courtyard to gain a more comfortable and useful space. How many times have you been sitting out on a sunny day and found the dazzling sunshine a little too much? With our exterior roller shades, you can easily adjust the level of sunlight reaching your patio. Our systems are designed to suit any and all properties, so no matter what style you're looking for, you can be sure we'll have something to match.
Install Overhead Patio Shades For Improved Coverage
Some patios aren't fully covered overhead, allowing sunlight to shine down throughout the day. This can easily lead to overheating and sunburn, which are both easy ways to ruin anyone's day. Spend more time outside when you can control how much sun is reaching you. Our range of custom overhead patio shades offer perfect coverage whenever you need it, and you can easily reposition them throughout the day. We offer many different styles, too, so you can select the right look for your gazebo or deck. Get a closer look by scheduling a free consultation with our Santa Monica team.
Custom Motorized Exterior Shades Are A Smart Investment
Once you've invested in a set of exterior shades, it can be tiresome to adjust them throughout the day. With our range of motorized exterior shades, this isn't a problem. All you have to do is press a button, and your shades will move to whatever position you need them in. This cutting-edge technology is an excellent investment in any Santa Monica home since it allows you to maximize the enjoyment you get from your patio, courtyard, or deck.
Benefit From Custom Patio Shades Today
Keep bugs and unwanted sun away from your property by choosing shades that fit your patio perfectly. Our range of coverings provides all the design choices you need to find something that suits your home down to the ground. Why wait any longer? Our Santa Monica Blinds & Shades team is ready to give you a free quote today. Just get in touch to find out more.