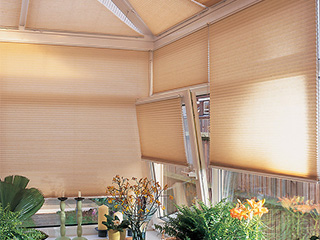 There are a lot of window cover styles to choose from. You can choose from a variety of fabric-based shades or covers, or from more synthetic materials like plastic. The decision is up to you depending on your preference and the function of the room in question. Cellular shades, often referred to as honeycomb blinds, are one of the best window covering options available today. There are many reasons why that's the case.
Cells Make the Difference
The undulating shape of these window coverings creates pockets that can effectively trap air and reduce heat transfer. If you're going for an insulating function on top of a light control, cellular shades are a great option. There's one main difference between them and other products, and it's immediately evident.
A Unique Build
Cellular shades aren't made from a single sheet of fabric. Instead, they're made out of a double layer of material and built in a creative way to create air-trapping spaces between each vane segment. This unique design makes it one of the best looking modern blinds around. That means that cellular shades are an excellent way to add to the insulating capabilities of any room. Although not as effective as wall and roof insulation materials these shades can help you lower your utility bill. It's amazing how much money you can save with relative simple energy saving solutions like this one.
Excellent Design Options
They can also add a lot of unique decor to any room they're installed in. The varied design choices available today can complement the style of anything from a residential living room to a corporate boardroom. The cellular pattern is something that tends to catch the eye right away. They emphasize the window areas or serve as a backdrop for ornaments when they're pulled shut.
Style and Energy Efficiency
You can get these affordable products today by getting in touch with our team here at Santa Monica Blinds & Shades. If you're not yet sure if this is the best type of window treatment for your home or business, schedule a free consultation with one of our experts and ask us all your questions.