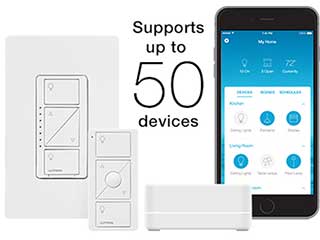 Motorized window shades don't only upgrade the look of your home or business. Lutron wireless smart shades improve energy efficiency and sunlight diffusion. Each set is custom-made to match your windows, ensuring a completely perfect fit. We're the leading source for motorized Lutron shade solutions in the Santa Monica area, offering free advice and no-obligation consultation. Use our expertise and experience to find the best combination of custom-made motorized shades with smart Lutron controls for any building nearby.
Motorized Lutron Shade Solutions
Motorized shades for windows bring a whole range of wireless control features with them, too. Wall switches and dimmers are just the start. These smart Lutron coverings can connect to WiFi, Bluetooth, and even your smartphone. Lutron smart shades offer the best way to control motorized window coverings. Thanks to the amazing variety of styles, you can improve the aesthetics of your home easily as well. Sheer and blackout shades are the perfect addition to any room, bringing amazing style as well as highly effective utility.
Why Motorized Shades Are Ideal
When considering the benefits of Lutron motorized shades, convenience is just the starting point. Smart sensors for brightness and temperature are able to keep your rooms at the perfect comfort level and can save you money by making your property more energy-efficient. Forget having to adjust your smart shades throughout the day, just let Lutron motorized window coverings do it all for you. Programmed schedules allow Lutron shades to adjust themselves without you having to interact with them. Schedule wide-open windows during the day, and have your smart window coverings close automatically to provide privacy in your property. Your Santa Monica commercial or residential property will benefit significantly from the improvements in comfort and energy efficiency that Lutron smart shades bring.
Santa Monica's Best Options For Lutron Motorized Shades
Homes and businesses are ideal places to install new Lutron motorized shades. This innovative technology automates your wireless remote control shades, but it's also a fundamentally good-looking product. You'll get the best of all worlds by choosing great-looking motorized window coverings for your home or business, and it's easy to find the perfect fit. Simply book a free estimate with our specialists and learn everything you need to know. Call and schedule your free consultation about the best motorized Lutron window shades in Santa Monica or nearby. With custom designs made to size, our automatic window coverings offer the best solution for home or business spaces.