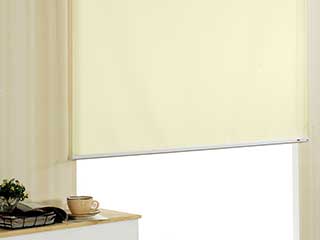 Do you want to add some extra comfort and privacy to your property? If so, then blackout blinds can offer you the solution you need at an affordable cost. Our range of custom blackout window treatments is perfect for Santa Monica skylights, windows, and sliding glass doors. We create totally custom-built blinds designs to suit anything you need. Whether you're looking for blackout blinds for bedrooms or anything else, we've got top-quality window coverings at the best prices around. At Santa Monica Blinds & Shades we take custom design seriously. That's why we offer a free consultation to every potential customer. If you're interested in upgrading your property with the best blackout blinds around, schedule your appointment today. We offer in-person consultations with no obligation to buy. Anywhere near the Santa Monica area. See our collection of blackout window treatments and choose the materials and styles that you like best.
Cheap Motorized Blackout Blinds In Santa Monica
Adjusting your window coverings by hand can be a monotonous, frustrating task. It's easy not to bother, and just put up with dazzling sunshine that stops you from being truly comfortable. You don't have to tolerate this, though. Our selection of custom motorized blackout blinds cost much less than you might imagine. With the same full range of different colors, materials, and options that you get with our regular blackout blinds, it's easy to add a little modern convenience to any property. We provide both wirelessly-powered and mains-powered systems, ideal for all windows. Interested in bringing some 21st-century technology into your home? Find out more by booking a free in-person consultation today.
Blackout Blinds For Windows, Skylights Or Doors
We offer fully-customizable sets of dark window covering options. This means you can use us to create blackout blinds that fit any window in your property. We provide everything, including blackout blinds on skylights and other hard-to-reach areas. Besides, we also make French Door blackout blinds, which are specially designed not to get in your way when you open and close the door. This is just a small part of our range of room darkening window treatments. But it does a great job of demonstrating how flexible we can be. No matter what you need, we're the Santa Monica-based window blinds specialists who can guarantee your satisfaction. Get more info today by scheduling a free estimate.
Blackout Blinds For Local Santa Monica Businesses
It isn't just homes that need to be comfortable to spend time in. Any workplace that doesn't protect employees and customers from dazzling sunlight is bound to suffer the consequences. Stress headaches and eye strain are all common symptoms of poor natural light control. With our huge variety of office window blackout blinds, it's easy to prevent these issues. Our products also provide a high level of privacy, which can be crucial for businesses such as a dentist's or doctor's surgery. It could cost much less than you think, too. Learn more about our affordable office window blinds via a free in-person consultation.
Blackout Blinds Improve Your Property
Once we've installed the new custom blackout blinds on your windows/doors, you'll see how great they solve your too much sunlight problem. You'll probably wonder why you didn't get blackout window treatments installed sooner. The difference between a room that feels comfortable and private and one that doesn't is stunning. Don't wait any longer. Simply contact our Santa Monica-based blackout blind experts and see what we can offer your windows, doors, and skylights.