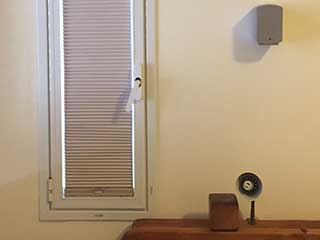 Why have Venetian blinds become so popular over time? Perhaps it's their simple nature that makes them easy to produce and install. But design also plays a factor when people choose new window covers. Something as simple as getting new window coverings for your home can go a long way in sprucing it up! Our Santa Monica experts offer free consultations and would love to help you find the right fit for your tastes and budget. One of the tried and true options that many choose are Venetian blinds. Whether you want the elegant look of wood or low maintenance aluminum, we have a variety of materials for you to pick from. There's more information about the different types, and their advantages, if you read on further:
Affordable Motorized Venetian Blinds in Santa Monica
The manual strings of window treatments can not only detract from their overall look. But they can also be a hassle to use. On top of that, kids may fuss with them, and could even harm themselves with them. However, there's a solution! Rather than needing to fuss with manual covers, motorized Venetian blinds can offer you more for less. They can have Wi-Fi capability, which means you can control them right from your smartphone or tablet. Motorized Venetian blinds look clean and simple, and there won't be any more wearing out of the strings by your children. Use your phone as a remote, or connect your motorized Venetian blinds with Alexa or the Google Home virtual assistant for optimal functionality.
Metal & Wood Venetian Blinds for Your Home or Business
Our Santa Monica Blinds & Shades professionals are here to help you go over the different materials for your new Venetian window treatments, and find what will suit your needs. We take into account your budget and style, so you know that you're getting the perfect fit for your household, or workplace. If you're looking for the cheapest option, metal Venetian blinds are your best bet. There's also aluminum for something that will hold up for a long time! Want something more elegant for your office? Why not get wood Venetian coverings to match that gorgeous desk. If you like the look of wood but are looking to pay less, we have faux wood options as well.
Blackout Venetian Blinds – Extra Privacy
The uses for blackout Venetian blinds are easy to tell. Anyone who works late shifts knows that getting sleep during the day can be a real hassle. Even if you'd just like to take a quick nap, the sunlight from outside can be a bother even with window treatments! That's where blackout Venetian blinds can help. These are made specifically to keep out all light from outside, no matter what time of day it is. Whether you need blackout Venetian blinds in the bedroom to get some rest or want to keep out any glare on the living room's TV screen, this is the finest option.
Venetian Blinds For Santa Monica Windows
If you're looking for vinyl Venetian blinds that are easy to keep clean or have any other specific wants or needs, our experts are here to help you discover the very best fit for your home. We'll walk through everything with you, so you can be confident that you've made the right choice. Thanks to our custom-made blinds, you can also rest assured they'll fit your windows beautifully. Contact Santa Monica Blinds & Shades today to schedule a free appointment, and we can get started! Venetian blinds, motorized or blackout (or both) have plenty of benefits to offer your Santa Monica office or home. Find out all about the different pros with a free, in-person estimate.