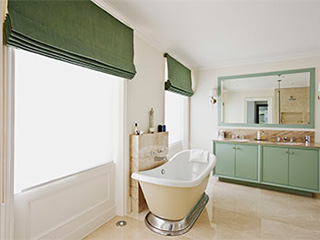 When deciding which blinds to have in your bathroom it is very important to consider materials, functionality, and styling. In this post, we will go over some of the most important factors to think about when making your choice. There's a whole sea of window blinds out there to choose from, so make sure yours tick all the boxes you require!
Prepare Your Windows For Moisture

Vinyl or PVC roller blinds are two of the most popular styles for bathrooms and kitchens because plastic is completely moisture resistant. Wood, fabric, and metal will decay over time when exposed to constant splashes of moisture and steam. Plastic blinds come in a huge range of designs and colors to meet your needs, so styling is not a problem.

Privacy And Light Control

Another advantage to using blinds that are made from plastic is the fact that they will be solid and not transparent. This makes them especially effective at blocking out sunlight, as well as giving users complete privacy. This is an especially crucial feature for bathrooms. Transparent window coverings will let in light even when they are closed, which is not ideal for bathrooms or bedrooms.

Avoid Metal Components

More than just the actual blinds themselves, you also have to check that none of the pieces or components on the blind are made from steel. Many roller shades and other basic designs will feature metal parts in headrails and other elements. If these are made from steel or wood, they will likely decay over time and cause issues down the road. If you want metal, it's preferable to aim for water-resistant aluminum designs and ensure that all components are made from this metal. The last thing you want is to have a beautiful blind fail you at a later date because its rail is made up of parts that are rusting.
By following the key points mentioned in this post, you are now ready to search for the perfect bathroom blinds with confidence!