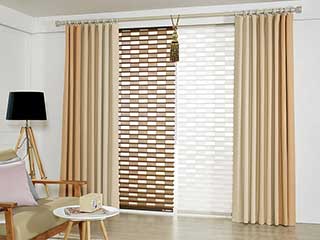 If you're looking for high quality, custom-made window curtains and drapes you're in the right place. Santa Monica Blinds & Shades is proud to offer the best and nearest variety of free-hanging window treatments. Services include custom made curtains and installation. Whether you're looking for draperies for the bedroom or curtains for office windows, you can get a custom product made.
Custom Curtains And Draperies
Window treatments can be made from all sorts of fabrics. From vinyl or polyester to airy cotton or silk, to heavy wool or velvet. Custom curtains can also be made in any color or design, shaped into panels and pleats of all descriptions. You can supplement them with valances, ribbons, or remote controlled electric openers. If you can imagine it, the Santa Monica Blinds & Shades team can produce it. Consult with our professionals to find just the right curtain design to fit any room. With us, you can get custom curtains for your home to your office windows.
Curtains Or Draperies?
Curtains are lightweight, freely foldable sheets of fabric, varying in length. They range from just window sized to reaching down to the floor, that move along an overhead bar on a set of hoops. Usually, curtains work together with window blinds or shades. Drapery, despite often being used synonymously with curtains in common parlance, refers to much heavier, paneled or pleated sheets. Drapes hook directly onto the bar. They're usually at least floor length, and often long enough to pool on the floor below. Window drapes are often tied back with ribbons or further decorated by hanging valances.
Blackout Curtains For Bedrooms and More
Need some really heavy duty sunlight protection? Blackout curtains and drapes are made from a special, foam-backed fabric. |They completely block sunlight to allow for privacy and room darkness. This while retaining the comfortable and homey appearance of traditional window treatments. Blackout curtains are perfect for bedrooms and galleries. They're great for any room with very perishable art, furniture, or wallpaper. To get the best protection for household items, combine this black foam fabric curtains with a motorized opener and photo sensors. This will grant you automated control and a lot more. Motorized blackout curtains are incredibly popular nowadays. They make an excellent custom window treatment choice.
Discount Curtains And Draperies
Santa Monica Blinds & Shades offers the best value on your investment for custom window treatments near the area. With frequent deals, rock bottom prices on higher value curtain materials, and more. Along with no-obligation consultation appointments and free quotes on curtains and draperies as well. For professional custom motorized curtain installers closest to the Santa Monica area, you need only give us a call.
Custom Made Blackout Curtains and Sheer Drapes
Or vice versa, you can get light filtering curtains and all kinds of draperies made of blackout fabrics and other materials. You've got a wide range of options. Choose how light filtering or room darkening your new curtains and drapes should be. Contact the Santa Monica Blinds & Shades team to meet with a curtains and draperies expert and discuss all the available options. Get a free quote and see what kinds of combinations of color, fabric, and design you can choose.