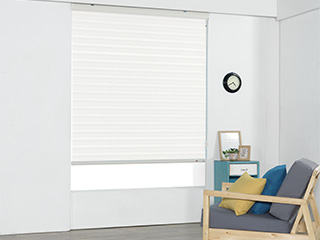 Make your home or office an even more comfortable and inviting place with our roller shades. Enjoy the ease of use and reliable performance these window treatments offer. All of our products in this range come with an aluminum roller, chain tidy and a clutch driven mechanism, which enables you to set them in your preferred position easily and quickly, ensuring maximum safety in the process.
Safety and Appeal
Our roller shades are made in line with the American Child Safety Regulations and come with a 5-year warranty. The crush cutting prevents fraying for maximum durability and gorgeous visual appeal, even in the long term. There are no side seams that can negatively affect the strength and look of these window treatments, which means their service life will be very long, provided that you take good care of them.
Enjoy Perfect Comfort
The sky is the limit when it comes to style, fabric and color options you can choose from. You decide how much ambient light you want to get in, how well the new roller shades match your decor and how well they contribute to the designed look you're going for. Our specialists will take care of everything else. We can help you choose the perfect classic or modern window treatments for your property, whether it's a residential home or a commercial business space. Our team will ensure that all of your requirements and preferences are met and that you don't neglect to consider any factor that may influence your decision. Our custom sized roller blinds can be an excellent match to go with both windows and glass doors. Our goal is to give you exactly what you want, without you having to compromise on anything.
All You Need To Do Is Contact Us
Take advantage of our installation services to ensure that your new roller shades will fit every window perfectly, and will last for a long time as a result. Count on our experts at Santa Monica Blinds & Shades to save you a great deal of time and effort by answering any questions you have. We're happy to provide free color samples and to consult you on every aspect.