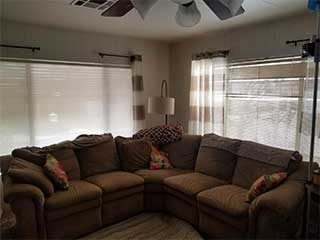 Proper privacy is essential in any home. You can't relax if you're always worried about neighbors looking in at you. Whether you're eating dinner or going to bed, you should feel secure in your property. Of course, not all window coverings can deliver the right level of privacy. As the best blinds specialists in your area, we offer many top-quality window treatments for Santa Monica residents. These are our top picks for bringing privacy to your property.
Vertical Blinds Cover Sliding Doors and Large Windows
Many living rooms and bedrooms are fitted with large windows, or sliding glass doors leading to patios and gardens. These are perfect for letting in lots of natural light and create an attractive, spacious environment. However, they don't give you a lot of privacy unless they're adequately covered. We recommend custom vertical blinds as the perfect way to achieve this. We provide many different materials and colors to choose from, so you can be sure your room will both look great and feel private. Vertical blinds can fit any Santa Monica home and work great for large office windows too.
Blackout Curtains Guarantee Your Privacy
When it's dark outside, it can be challenging to know how much privacy you have. This is because the lights in your home will make it easier to see in through thin window coverings. Avoid this issue by choosing custom blackout curtains. These room darkening window coverings cut out light, ensuring your privacy at all times. You don't need to compromise on design choices either, because we provide a vast range of colors and styles to choose between. Your Santa Monica bedroom windows can benefit a lot from blackout curtains. You'll sleep better and have complete privacy.
Plantation Shutters Are A Great Addition
There are few window coverings which look quite as attractive as plantation shutters. These are available in a range of natural colors and finishes, which are sure to suit any home. Most importantly, these coverings provide peace and quiet with a simple adjustment. When all you have to do is flip the shutters closed, it's easy to feel relaxed at home. The classic style of plantation shutters has made them famous throughout California, and the west coast in particular. They make for excellent additions to any Santa Monica homeowner looking for new interior or exterior window treatments.
Add Venetian Blinds To Any Room
These window coverings are perhaps one of the most versatile and useful choices around. Residents of Santa Monica often choose custom Venetian blinds for rooms where they want to add a little bit of elegance and timeless design. This is easy to achieve since these room darkening window treatments come in many different materials and finishes. Best of all, it only takes a quick twist of the control rod to guarantee total privacy. What could be a better fit?
Roman Shades Add A Touch Of Class
One of the most popular window coverings around are roman shades. They're also a great way to ensure privacy in your home. We provide Santa Monica residents with a range of different options that keep prying eyes away from your property. Choose from materials that are specifically designed to prevent people from seeing into your home, while still looking great.
Choose The Best Window Treatments For Your Privacy
Do you worry about nosy neighbors and passers-by? Put a stop to this today by investing in the right window coverings. Whether it's Vertical blinds, plantation shutters or blackout curtains that interest you, get a free estimate and see what customizations you can choose. Get in touch with Santa Monica Blinds & Shades to see how easy it could be to get perfect privacy at home or your office.