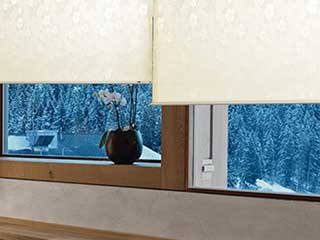 Motorized window coverings are an excellent way to introduce some extra convenience into your life. The ability to quickly and easily adjust the natural light levels in your home is extremely useful, but there are additional benefits that go beyond convenience. One of the most important features that make motorized shades an exceptionally smart investment is the ability to cut back on your overall climate control costs.
Shades Help Control Temperature
Natural sunlight doesn't just illuminate a room; it also heats it. You can take advantage of this free energy by letting it stream through your windows. However, when the sun goes to sleep you'll want to let down the coverings to prevent heat loss through the glass. This is tricky to balance out even when you're at home, and consequently few people will get the most benefit out of the natural sunlight. Thankfully, there is an easy and effective solution available at hand.
Smart Shades Maximize Temperature Control
Motorized window coverings can be controlled automatically to gain the maximum benefit from sunlight. A clever combination of sensors enables your shades to open and close throughout the day, without you needing to take charge or control them at all. You can easily do this by using an indoor temperature sensor and an outdoor light sensor.
How Does This System Work?
When your home detects that it is sunny out, it will open up the window coverings automatically. This will let sunlight stream in and heat up your rooms for free. This smart system helps you cut down on heating costs, as the climate control won't have to work as hard to maintain a comfortable temperature. Once your home reaches the optimum level of warmth, the indoor sensor will activate the shades to close again. This maximizes heat retention while also protecting internal furnishing against unnecessary damage from sun exposure.
Motorized Shades Help All Year Round
Motorized shades are especially helpful in winter, since your home will need every little bit of warmth it can get. The same concept works in reverse over summer - your shades can remain closed while the sun is out, but when cloudy they can pop open and help cool the air down. As a result, they will reduce the load on your air-conditioning system, saving you money and keeping your home at the perfect, ideal temperature.