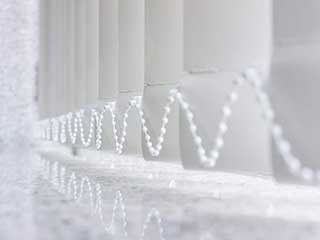 You can cover any large window or sliding door with our excellent custom vertical blinds. These window treatments provide the best way to improve comfort at your workplace or home. Thanks to our incredible range of different options, you'll find it easy to create window coverings which perfectly match your requirements. Our Santa Monica-based specialists offer free quotes, and will even provide an in-person consultation at your property. Why not get in touch and see how you could benefit today?
Choose Vertical Blinds For Your Sliding Screen Doors
There are plenty of homeowners all over Santa Monica who constantly deal with glare and lack of privacy in their homes. You need a reliable, effective way to control light passing through your sliding screen doors, but most window coverings aren't good enough. Our custom vertical blinds provide the perfect solution. These window treatments are ideal because they are easy and quick to adjust to wherever you need them. They also provide perfect privacy and protection from dazzling sunlight. Explore our fantastic range of vertical blinds for sliding doors today.
Motorized Vertical Window Treatments
The benefits of vertical blinds in better covering larger windows and patio doors make them the perfect choice for that task. But did you know you can also get them motorized to make the most out of them? That's right. Motorized vertical blinds offer you remote control methods ranging from the classic button choice to Wi-Fi enabled devices and even self-adjustment sensors. You choose the control feature you want and our blinds installers set it up for you. Getting motorized vertical blinds for your Santa Monica property can give it more high-tech style and utility. We're happy to explain more with a free consultation.
Affordable Vertical Blinds For Office Windows
We offer a stunning variety of different design choices. You can be sure that your office will look smart and professional, with as much as style as you desire. Whether you're fitting out the office boardroom and need a premium finish, or you're installing custom vertical blinds throughout the office, we have the designs you need. Our vertical blinds will protect employees from the glaring sun, ensuring that they can focus on their work. These window coverings also easily allow sunlight in when necessary, so workers won't develop eye strain looking at screens in a dim, poorly-lit room. See what we can do for you by arranging a free consultation in the Santa Monica area today.
Our Affordable Vertical Coverings
The selection of high-quality vertical blinds that we provide offers you a wide range of appealing design options. We use materials like real wood, aluminum, and vinyl as well as fabrics, including blackout and sheer materials. This allows you to pick and choose the perfect combination for any property, whether it's a modern meeting room or your family living room. See how amazing our vertical blinds could look in your property by scheduling a free consultation with our representatives.
Santa Monica's Best Vertical Blinds Installation
No matter what you need, it's our mission to provide custom vertical blinds for any property. Don't hesitate to get in contact with our Santa Monica-based experts and arrange your no-obligation consultation. Find out how little it could cost to get the perfect vertical blinds for your home or business with a free quote. Don't put up with low-quality window coverings any more. Give us a call to schedule a free estimate and see what sort of vertical blinds or other treatments you can choose.