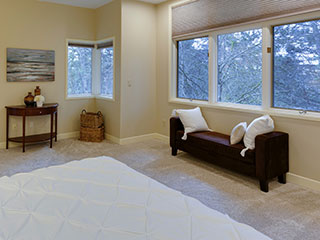 Keeping the elements at bay and protecting our privacy are the reasons we invented houses in the first place. Manual window blinds help prevent unwanted cooling, sunlight intrusion, and nosy neighbors peeking in, but motorized blinds do it much better. Not only are they more convenient and less of a chore than manual window blinds, but they can also reduce your electric and home maintenance bills. What you get out of adding motorized blinds to your Santa Monica property's windows depends on the structure, materials, and extra features they include. Below are some of the factors and possibilities you should think about. Remember, with custom made blinds, motorized covering solutions can flaunt all sorts of designs and attributes. You've got a huge selection of choices, and consulting with our local professionals (for free) can help get you started!
What Blinds Can Be Motorized
"How do I want my window blinds to look?" It might sound like a frivolous question to some, but it really isn't. Window treatments do at least as much for a room's atmosphere and comfort level as most furniture pieces, and they also send a message outside. Blinds for bedroom windows should have softer and more soothing colors. Want blinds for an office or other workplace window? Vinyl, wood, fabric, and other materials all have different properties in this respect. You also need to decide if you want full blackout blinds, or something more semi-permeable. If you want full opacity, solar-powered motorized blinds might appeal to you in particular! Finding a set of custom motorized blinds for your Santa Monica windows can prove much easier than people expect. With complete made-to-measure options, you can customize the choices to combine something that provides all your necessities.
Motors For Window Blinds
Time to talk about the qualifier on "motorized blinds." Nowadays, battery-powered blinds are much more popular than the older wired variety. These wireless motorized blinds are more reliable, more user friendly, and easier to install. If you're interested in really minimizing power consumption, solar-powered blinds top themselves off just by sitting there and putting the light they block to use! Even without any fancy solar cells, motorized blinds can reduce your power usage and also save you money elsewhere if you get the right controls. The motors for the automatic window blinds you add to your Santa Monica property need to have certain capabilities. From silent operation to minimal power, it's important to know what the new blinds will need. And for that, you've got our local experts to help you.
Smart Blinds Control Systems And Sensors
Basic control panels and remote handsets save you a little bit of walking and crank-pulling, but motorized blinds can go much further than that. Anyone and everyone can forget to adjust their window blinds sometimes. If you have a lot of windows, it can make a big difference if you forget or don't have time even just once. Excess sunlight causes heating that requires more AC usage to counteract, bleaches furniture, and ruins wallpaper and rugs. Uncovered windows cause unwanted cooling during cold nights. Putting your motorized blinds on a timer or sunlight sensor system removes all of these risks. The minimal power consumption of the smart window blinds will be outweighed many times over by the AC/heating and home repair savings as time goes on.
Most Affordable Motorized Blinds In Santa Monica
Get the best bang for your buck by choosing to have new motorized window blinds custom made for your property. You can pick different materials as well as motorization methods to create something that meets any needs you have. If you're thinking about motorized blinds in the Santa Monica area, we can offer you the lowest prices on quality products. With complete made-to-measure motorized window coverings, you can customize the product in various aspects. This ensures you get exactly what you wanted. So give us a call and schedule a free consultation on electric blinds, window shades, or other treatments.