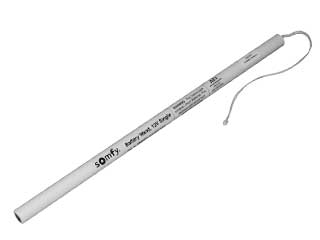 The effective features of smart motorized window blinds and shades have a lot to add to any room. From brightness sensors that let the smart Somfy blinds work automatically to voice commands communicated via your smart home system. Somfy shading solutions offer motorized window treatments of a huge range of types, perfect for every purpose. From soft fabric drapery to rolling shutters and outdoor pergola screens, our Santa Monica Somfy installers can custom make any shading product for your specific needs.
Blackout Motorized Blinds and Window Shades
Utilize more than smart remote control blinds features by installing blackout window treatments in rooms that need them the most. Your Santa Monica bedroom windows need blackout blinds to keep your sleep pleasant and comfortable. Early morning sunlight or the glow from streetlights interrupting your sleep will make you more groggy through the day. Bad sleep is terrible for your health, but with smart Somfy motorized blinds and shades, you don't have to worry about that. Close the blinds from the comfort of your bed with the press of a button. You can even set your motorized blackout blinds to open for you at a certain time. No more startling alarm clocks!
Rolling Shutters – Window Wall Covers
If you've got a large surface area to shade like glass sliding doors or big window walls, Somfy rolling shutters can make for a great choice. The stronger nature of window shutters, combined with smart Somfy controls, gives you ideal remote operation methods for all times of the day. Rolling shutters also contribute to the security of your Santa Monica property, serving as a barrier from metal or vinyl. Choose a wall switch or a remote handset, or both, and operate your rolling shutters with Somfy's best control options.
Somfy Shades and Screens For Patios and Pergolas
When it comes to motorized outdoor shading solutions, Somfy offers the same level of high quality at affordable prices. You can add additional shade to Santa Monica outdoor pergolas, gazebos, and pavilions, with rolling screens, sheer or opaque. Motorized patio covers and deck canopy options let you enjoy the pleasant outdoor air even when the sun is blazing above. Somfy pergola screens and motorized patio shades offer wonderful opportunities to add color to the décor too. With strong materials and the ability to withstand different types of weather, motorized Somfy outdoor shades are the smart choice to make.
Nearest Santa Monica Somfy Blinds Source
Get help from the experts in your area! Want to find out more about different Somfy shading solutions and remote control window treatments for Santa Monica area homes and businesses? Then get in touch with our nearby experts for a full consultation provided for free! Look at design options, advanced smart remote control blinds features, and more. Consult with the best and choose the best, at the fairest prices around. Schedule your free estimate to find out more!