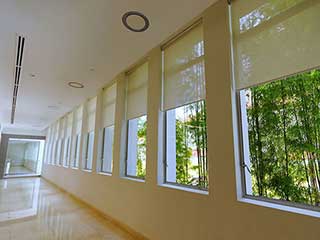 The type of window shades you have in your office can say a lot about you. Are you a business owner looking to make a good impression on potential customers? Then don't do neglect this aspect of your property.
A Shade For Every Shape
Regardless of how big or small your windows are, our custom made blinds will fit them perfectly. It's important to ensure the shades you get are custom made, as they need to cover each window in its entirety. Otherwise, they won't provide the best level of light filtering and blocking. Of course, there are other factors to consider. Motorized roller shades, for example, can do more than be a perfect fit. Nothing says innovation and modernity more than automation. By drawing the blinds with the push of a button, you'll definitely be sending a message. You'll be letting people know just how much you care about efficiency and convenience.
Improving Employee Productivity
There are a lot of ways to promote a more productive work environment. Nothing does it more subtly than window shades. The vibe and beautiful decor that Roman shades, for example, can bring to a room shouldn't be taken for granted. While some may neglect the design layout of their corporate setting, our team here at Santa Monica Blinds & Shades knows how important this can be. It took companies like Facebook and Google to come along before people became more aware of how important decor is for productivity. With the wide range of design options our company offers, you're bound to find the window treatments that will complete the interior environment of your business perfectly.
Privacy and Energy Efficiency
It's not uncommon for office spaces and boardrooms to need to be able to switch from visibility to privacy during important meetings. Installing sheer shades on the windows of such rooms can grant you exactly that. To optimize the environment for presentation slides, there are room darkening or complete blackout shade options available as well. Restaurants and hotels can also benefit from the same ambiance-creating covers if their styles match. Places like schools or hospitals welcome and utilize sunlight to keep students energizes through the day. There are plenty of designs and styles to choose from that can both block or regulate light with simple and safe methods, from cordless options to ensure child safety to motorized shades controlled by a remote control.
Give Us a Call
A wide range of options is well and good, but business owners always need to protect their bottom-line. To do this, they must make sure that what they are getting more than just a fair deal. You want to know you're getting the highest quality product for the lowest possible price. That's exactly what our team here at Santa Monica Blinds & Shades offers. Schedule a free consultation appointment with one of our experts and let us show you why your business's windows are safe in our hands.