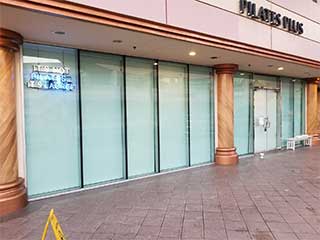 Our huge range of sliding door blinds gives you all the options you need to improve your property. Pick from an impressive selection of different materials and designs, including high-quality motorized rolling shutters and custom blackout curtains. Whatever you need, our team is on hand to provide it. We even offer free consultations all across the Santa Monica area. To learn more about what we do, and to schedule your consultation, simply contact us today.
Vertical Blinds – Real & Faux Wood
We provide an enormous number of options for your custom vertical blinds. Choose sliding door blinds in any material you like, from blackout to sheer, from aluminum to vinyl and even wood. And in almost any color you can imagine. Our vertical blinds let you control every aspect of your new window coverings, even down to the width of the vanes. If you want the best vertical blinds at the lowest prices near the Santa Monica area, we're the team to talk to.
Custom Patio Door Blinds
Keep comfortable in your home by choosing our custom patio door blinds. These window coverings provide you with easy-to-use and effective protection from blazing sunlight and peeping neighbors. You can design blinds that perfectly suit your home, right down to the colors and materials we use. We'll create your new patio door blinds to our high standards, giving you the long-lasting quality you can rely on.
Drapery And Curtains For Sliding Doors
Sliding door blinds give you great control, but they're not the only option. Our range of curtains and drapery provides a great alternative that looks fantastic. Combine your choice of patterns and colors with a huge range of fabric options. Whether you want thick, luxurious drapes or lighter curtains, we have a huge selection to choose from. Interested in adding blackout curtains or other draperies to your Santa Monica bedroom or other? Then we have just the custom shading products to offer you.
Cheap Rolling Shutters
Our range of rolling shutters offers you a great way to improve your home both inside and out. Investing in wooden rolling shutters provides your Santa Monica property with long-lasting curb appeal. We also supply custom faux wood rolling shutters, which provide all the great-looking benefits of wood without the worries of upkeep. If you'd like to learn more about these window coverings, including even various motorized rolling shutters, arrange a free consultation today.
French Door Blinds At Low Prices
Don't put up with glaring sunlight in your home. Choose from our range of quality blinds for French doors. All of our products are custom-built to your specifications, so you can be sure they'll be a perfect fit. You can choose any combination of colors you want, so your new custom French door blinds will suit your home perfectly. To find out more about our impressive range of sliding door blinds, simply contact our Santa Monica-based team today.
Free Estimates On Custom Door Blinds
Call and schedule a free in-person consult with one of our blinds specialists near Santa Monica. We'll come to your house or office, sit down and show you all the available options. Our selection of sliding door blinds and covers includes a variety of styles and designs. There's something for everyone. Set up a free estimate today.