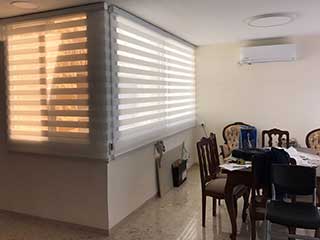 Having motorized roller shades installed makes things easier thanks to the automation they introduce by allowing you to open and close them at the touch of a button. They can also help improve the security of your home or business and will be a perfect fit for hard-to-reach high up windows.
Easy and Convenient To Use
Rather than using strings that can get tangled or stuck, motorized rolling shades instead can quickly and easily be opened or closed just by using the remote or the wall-switch. There's no need to worry about kids playing with strings and potentially getting hurt any longer. Not when you can simply push a button and watch the shades open or close accordingly. This type of window treatment can easily fit any room and style, but they're especially great for office spaces or homes that are trying for a more modern design. This type of covering can be made of cloth, and it's up to you and your specific taste whether you want blackout for complete light cancelation or a certain color that will allow some light to filter through and to perfectly match the room's surrounding aesthetic.
Motorization Helps Ensure Security
It may not seem like new shades could help protect your home more thoroughly, but you'd be surprised! One of the biggest draws for burglars are homes that look like they're empty, especially if they keep looking that way for long periods of time, like when you go away on vacation. However, thanks to the timer setting that motorized shades can offer you, your home will always look like someones there, even if you aren't! The predetermined opening and closing action will give the impression that someone is home and is drawing the shades every morning and night, which will help discourage criminals that might be surveying your property.
Professional and Fast Installation
One of the best things about the motorized roller shades we offer is that they're custom made to fit any window. That means that even if the dimensions are a little unusual, we'll be able to cover it completely, and you won't have to worry about sunlight getting through from the sides. Our team will get measurements of all the windows you want to have these shades installed over, and we'll make made to fit models for each one. We will then carry out the installation and ensure that your custom made motorized roller shades fit perfectly on all your windows.
Get In Touch With Us To Learn More
It's time to make your life a little bit easier, and your home a lot more secure. Contact Santa Monica Blinds & Shades today to schedule a consultation appointment with one of our experts!