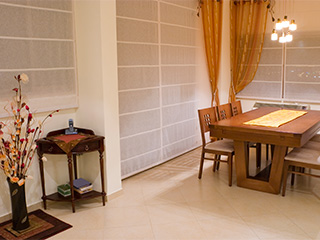 Many modern-day technologies originated in ancient times. Discovering just how old a certain way of doing things is can really make you astounded. It's quite remarkable how innovative our forefathers were. Apart from conquering half the known world, the Roman empire gave us all sorts of innovations. A lot of those are are still used today. Their numeral system, for example, as well as their architecture, are still very visible in today's modern day and age. They were also the first to introduce modern plumbing and air conditioning systems. There are all sorts of modern-day structures and technologies that can be traced back to old Roman times. A less known one of those is a certain type of window coverings.
Feel Like Caesar
Roman shades are traditionally used in order to block out the sun by folding and unfolding a sheet of fabric. The incredible secondary benefit these window coverings offer is that they are also a great way to complement the interior decor of your home. Roman shades have been used for centuries, and have yet to go out of style; nor does it look like they're going to do so any time soon. While homeowners can often be torn between a certain fabric and a certain function, with roman shades you are able to choose a customized fabric with varying qualities, from room darkening to a complete blackout.
Easy to Operate
Roman shades work stretching out into a smooth layer over the entirety of the window, giving you complete coverage and excellent privacy. When you want to let some light in, you can easily pull the cord in order to fold the fabric back up. As the fabric folds, it cleanly layers on top of itself in smooth straight folds, giving it a classic pleated look. You can open the roman shades all the way up, or anywhere in between. Their versatility and diverse design options make these shades an excellent choice for virtually any room.
Consult With Our Experts
There are all sorts of options available for you to choose from, and the decision-making process can quickly become a drag. That may be true in general, but not when you contact Santa Monica Blinds & Shades. With our free consultation appointment, you'll be able to find the perfect window coverings for your property very easily, by looking at samples and asking our professionals all any questions you have. The five-year warranty our company offers means you can rest assured that our products are built to last. After all, your complete satisfaction is what our team is aiming at. Call us today to learn more.