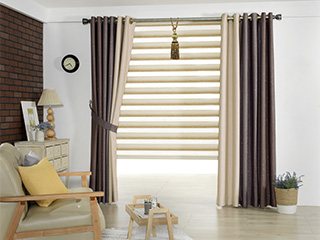 Aesthetically appealing and very practical, layered shades can make a great addition to every home and office. Our company offers a wide range of models in different colors and with different level of sheerness and opacity. We have something for every taste and lifestyle. It is our goal to ensure that each customer gets the ideal match to their decor. That is why we offer free color samples and thorough consultations.
Creating a Relaxing Environment
The vanes of these blinds are reminiscent of zebra stripes, which is the reason for their name. Not only can these window treatments add a touch of charm to the interior of any room, but they also serve a functional purpose. The lighter ones let more ambient light in to make rooms brighter and even cozier. The darker ones help you get the highest level of privacy. In general, there is no need for the colors of the vanes to be contrasting. You can have exceptional modern blinds in any two colors that you want. The sky is the limit in terms of options.
Lots Of Options
Our company offers full customization. The layered shades we provide will fit your windows perfectly regardless of their design and size. All of our window coverings are made from top-quality materials which can be very resistant to staining and dust. These blinds are extremely easy to clean and to maintain and they are also very durable and don't damage easily. Their simple and safe operation is another great advantage, especially if you have children.
We'd Love To Help
You can count on our team at Santa Monica Blinds & Shades to not only help you find the right window treatment option for your property but to also carry out the installation process, to ensure excellent performance right from the start. Whether you're interested in layered shades or any other type of window treatments, give us a call and let our professionals help you make an informed decision.