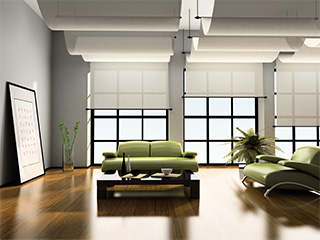 Have you ever considered putting blinds on your windows? If you never have, there are plenty of benefits that you may be missing out on. There are all sorts of window treatment options available today, and they can offer you anything from the ability to completely blackout a room or to improve your energy efficiency.
Privacy and Light Control
If you just have curtains on your windows, you don't really have any amount of control over how much light comes into the room. They are simply open or closed. With Venetian blinds or other modern variants, you can turn the panels, or adjust how high or low you want them to be for maximum or minimal light exposure. If you care about privacy, nothing beats panels that can be adjusted to fit any lighting conditions. This way you can maintain your privacy day and night with the turn of a cord, or with the push of a button, as is the case with custom-made motorized roller shades.
Energy Saving Benefits
Your windows can essentially be huge openings that allow drafts in and heat to escape your home. Curtains make for little more than thinner insulation layers. Honeycomb blinds, however, effectively act as layers of insulation, and they can really improve the energy efficiency of any room that houses them.
Fantastic Styling Options
All modern blind options that our company provides come in a range of colors and materials and provide a large selection for you to choose from. Roller blinds, in particular, are available in a wide range of colors, fabrics, textures, and patterns. That means that they can suit practically any type of design, and make for an excellent fit for both residential and commercial properties. Whether you want to put them on bedroom windows or in your living room, you're bound to find a solid choice that will help you achieve the look you're going for. Even children rooms can have a blast of cheerful color injected into them with safety blinds specially made to fit rooms that house toddlers that love to run around.
Plenty Of Options
The wide selection of potential mixes of fabric, color, and type can make it a little daunting for you to try and decide which window treatment options are going to be the right ones for you. Don't worry, our team here at Santa Monica Blinds & Shades will happily consult you and even provide you with free color samples that will help you find the most suitable product for your windows.